Let's Worship Our Glorious God - A Prayer from Psalm 97
How Psalm 97 spurs us on in worship.
Sometimes it's hard to worship God or to rejoice at who he is and what he's done for us.  It might be because of our personal circumstances; perhaps we don't feel like worshipping God if we're struggling, sad, or busy and tired. Maybe we hurt because of the hardships that others dear to us face, and so to rejoice in the Lord feels a bit like we're ignoring those we love, and are blind to their suffering.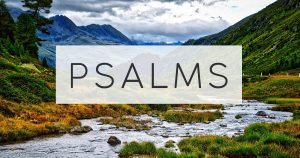 Or maybe we find it hard to worship God because of the state our world; there is adversity and oppression on a huge scale, and so perhaps we're a little bit angry at God, or at the very least confused by what he's doing, so it doesn't feel easy to worship God.
And even though COVID-19 restrictions are easing slowly, it may be that the pandemic has given rise to some or all of those circumstances which make it hard to worship God. Perhaps we feel less inclined to worship God than we did six months ago.
In our fallen world, the reality is that it's not always easy to worship God, that is, to recognise his worth and give him the honour he deserves.  For some of us, perhaps COVID-19 hasn't dented our eagerness for worship at all, and that's a wonderful gift for which we can give thanks to God. But for most of us, it's good to be encouraged to praise God and worship him, to rejoice in who he is and how he's acted for his people. 
Psalm 97 encourages us to worship our glorious God, and to rejoice in his goodness and his character. And the Psalmist reminds us of plenty of reasons for doing so!
As we've done with each Psalm in this series, I have written an expansion of each verse as a prayer. You might like to pray it with others in your household, or in your small group, or just quietly on your own.
1 The Lord reigns, let the earth be glad; let the distant shores rejoice.
We praise you Lord, for your reign over all the earth, and that your power and rule is good news for all nations.
2 Clouds and thick darkness surround him; righteousness and justice are the foundation of his throne.
We are mindful that we have no right to come before you. You are holy and just, in who you are, and in everything you do.
3 Fire goes before him and consumes his foes on every side.
Were we to come into your presence on our own, we would be utterly consumed, and so our need for cleansing and holiness is ever apparent.
4 His lightning lights up the world; the earth sees and trembles. 
As lightning, for a moment, lights the world, it is only by the light of the gospel that we can see ourselves and our world truly.
5 The mountains melt like wax before the Lord, before the Lord of all the earth.
We marvel that even what we see as huge and permanent, is temporary and weak before you, for you made it all.
6 The heavens proclaim his righteousness, and all peoples see his glory. 
We praise you that all your works are good and just, and find their fulfilment in Jesus, in whom we can be counted righteous.
7 All who worship images are put to shame, those who boast in idols— worship him, all you gods!
Guard us, we pray, from the foolishness of trusting in things that will disappoint us; money, career, status, even family, or our devotion to ministry.
8 Zion hears and rejoices and the villages of Judah are glad because of your judgments, Lord.
When we are reminded of how you have acted in the past, we rejoice and are glad, knowing that you are unchanging, and still work only for our good.
9 For you, Lord, are the Most High over all the earth; you are exalted far above all gods.
There is no one like you, and none more deserving of honour and praise, and yet you draw us into relationship with yourself in Jesus!
10 Let those who love the Lord hate evil, for he guards the lives of his faithful ones and delivers them from the hand of the wicked.
We praise you that you enable us to turn from sin and temptation, by the power of your Spirit whom you have placed within us. What we are powerless to do on our own, you do in us!
11 Light shines on the righteous and joy on the upright in heart. 
There is no joy like that of being forgiven, cleansed, and welcomed, by our glorious and powerful Father God.
12 Rejoice in the Lord, you who are righteous, and praise his holy name. 
May we sing, and speak, and meditate on your praises, for we are those to whom you have made yourself known!